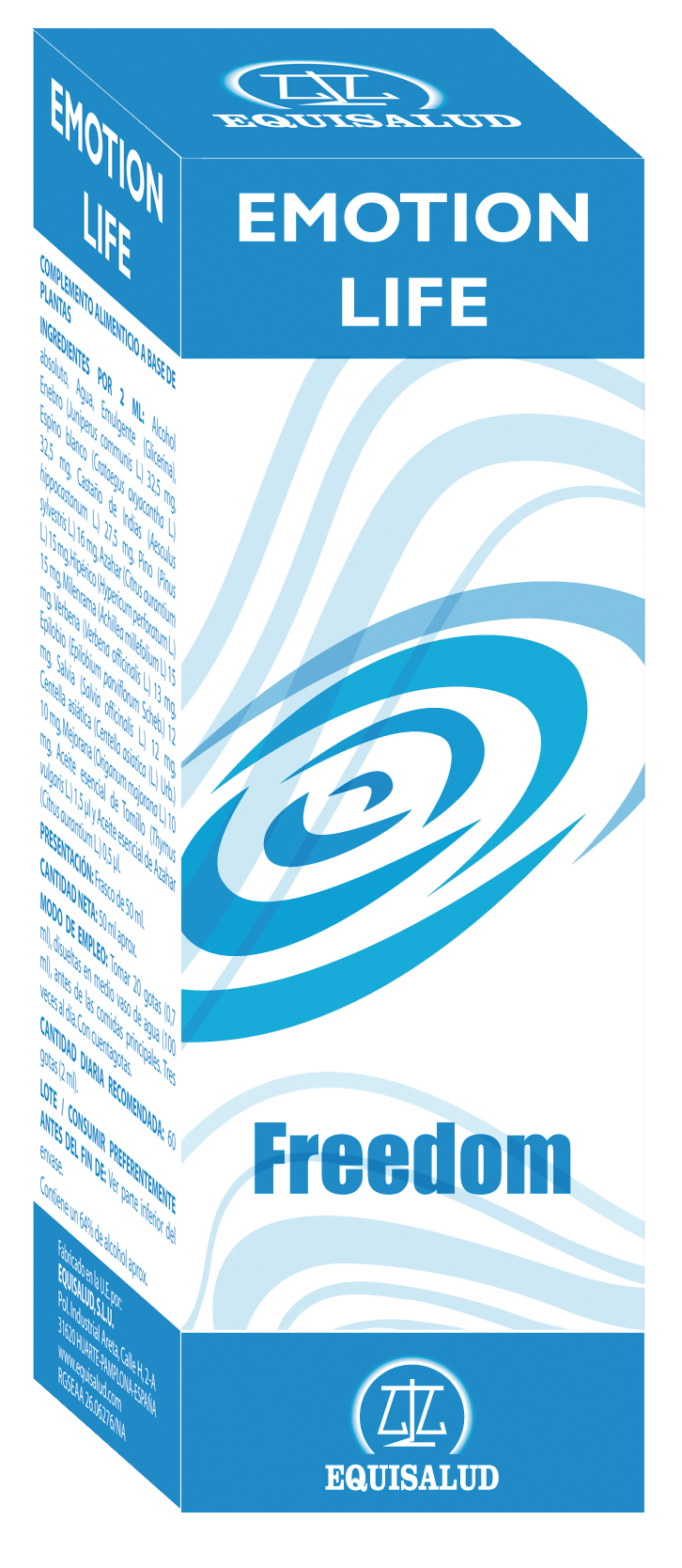 EmotionLife® FREEDOM
EmotionLife® FREEDOM- Emotional essence for the transmutation of Addictions.
Promotes the liberation of various types of dependence, helping transform addictive behaviours.                    

                                                     
ACTION                       
EmotionLife® FREEDOM helps to stimulate self- regulation in association with physical or psychic additions. It contributes to anxiety management, helps release suppressed feelings and the control physiological changes related to withdrawal syndromes, caused by substances.                                                                        
COMPOSITION                      
EmotionLife® Freedom is made of a substrate of dosed and activated phytonutrients, whose combination strengthen the adaptation systems, which modulate speci cally the response of the organism to the disturbing emotional states associated to the addition, such as anxiety and withdrawal syndrome: Phytonutrients and adaptogens: Juniper (Juniperus communis, berries) 812.5 mg; English Hawthorn (Crataegus oxyacantha, owering tops, > 1.5 %  avonoids expressed as hyperoxide) 812.5 mg; Horse chestnut (Aesculus hippocastanum, seed, 3% triterpenic glycosides valued as aescin) 687.5 mg; Scotch pine (Pinus sylvestris, buds), 400 mg; Bitter orange blossom (Citrus aurantium, ower), 375 mg; St. John's wort (Hypericum perforatum,  owering tops, > 0.05% hypericin) 375 mg;Yarrow (Achillea millefolium,  owering tops, > 0.2% essential oil) 375 mg; European Ver vain (Verbena of cinalis, above-ground par ts) 325 mg; Fireweed (Epilobium parvi orum,above-ground parts,> 1% total  avonoids (Hyperoxide)) 300 mg; salvia (Salvia of cinalis, leaves, > 1.5% essential oil) 300 mg; Gotu Kola (Centella asiatica,above-ground parts,> 6% total triterpene derivatives expressed as asiaticoside) 250 mg;Sweet Marjoram (Origanum majorana,leaves),250 mg.Essential oils:Thyme essential oil (Thymus vulgaris, leaves and  owering tops) 37.5 μL; Bitter orange blossom essential oil (Citrus aurantium L. var. amara,  ower), 12.5 μL. Diluents: absolute alcohol, water and glycerine.
Mode of use: It's recommended to take 20 drops (0.7 ml) diluted in half a glass of water (100 ml) before the main meals. Three times a day. Use dropper.
Recommended daily allowance: 60 drops (2 ml) a day.
Allergens: gluten-free.
Warnings: dietary supplement based on plants. Nutritional supplements should not be used as a substitute for a varied and balanced diet. Do not exceed the stated recommended daily dose. Keep out of reach of children. Consult your healthcare practitioner in case of prolonged use (maximal 6 weeks). Don't use in case of kidney failure. Do not use if pregnant or nursing. Don't provide for children under the age of 12 years. Do not use in case of antihypertensive treatment. Stop use in case of agitation or nervousness. Consult your health care practitioner and or pharmacist if you take simultaneously any medication.
Remark: net amount 50 ml approx.
It contains 64% of alcohol approx.
Preservation: keep the container tightly close, in a dry and cool place.