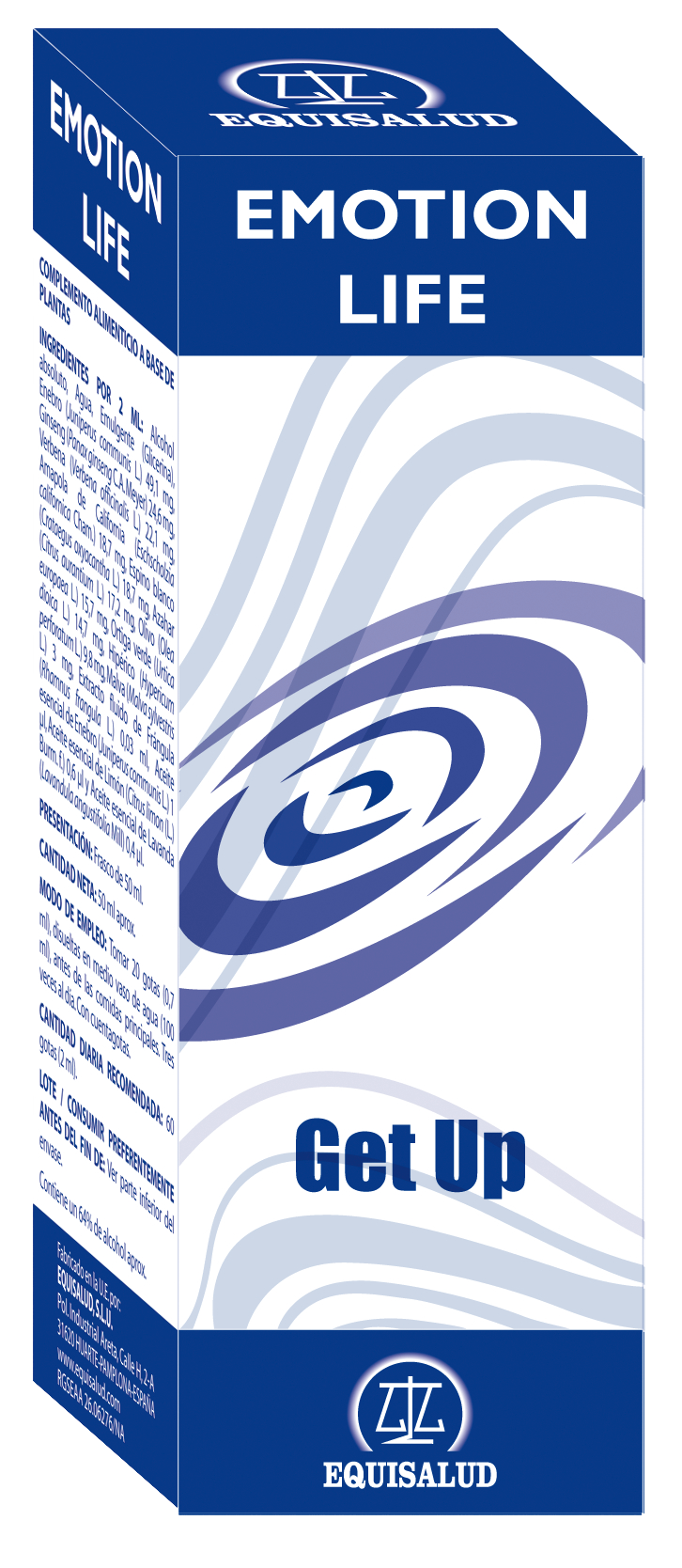 EmotionLife® GETUP
EmotionLife® GETUP - Emotional essence to adaptation in Stress & Emergency. 
Helps your body cope with acute stress and supports the immune system. 
EmotionLife® GETUP is designed to support our natural adaptive response to the emotional, physical or mental conditions that cause extreme stress. It supports all the subtle processes in the body to help it cope better, and recover better from stress.                        
EmotionLife® Get Up is made of a substrate of dosed and activated phytonutrients, whose combination strengthen the adaptation systems, which speci cally modulate the response of the organism to disturbing emotional states associated to acute stress of any origin. Phytonutrients and adaptogens: Juniper (Juniperus communis, berries) 1228.5 mg; Ginseng (Panax ginseng, root, > 0,4% sum of ginsenosides Rg1 and Rb1) 614.3 mg;EuropeanVervain (Verbena of cinalis,above-ground parts) 552.8 mg; California Poppy (Eschscholzia californica, above-ground parts), 466.8 mg; English Hawthorn (Crataegus oxyacantha,  flowering tops, > 1.5 %  avonoids expressed as hyperoxide) 466.8 mg; Bitter orange blossom (Citrus aurantium,  ower) 430 mg; Olive (Olea europaea, leaf, > 5% oleuropein) 393.1 mg; Stinging Nettle (Ur tica dioica, leaf) 368.6 mg; St. John's wort (Hypericum perforatum,  flowering tops, > 0.05% hypericin) 245.7 mg; High Mallow (Malva sylvestris,  ower), 73.7 mg; Frangula  fluid extract (Rhamnus frangula, bark, > 0,5% hydroxyanthracene heterosides expressed as glucofrangulin A), 0.79 ml. Essential oils: Juniper essetinal oil (Juniperus communis, berries) 24.6 μl; Lemon essential oil (Citrus limon, bark of the fresh fruit) 14.7 μl; English Lavender essential oil (Lavandula angustifolia,  ower) 9.8 μl. Diluents: absolute alcohol, water and glycerine. 
Mode of use: It's recommended to take 20 drops (0.7 ml) diluted in half a glass of water (100 ml) before the main meals. Three times a day. Use dropper.

Recommended daily allowance: 60 drops (2 ml) a day.

Allergens: gluten-free.

Warnings: dietary supplement based on plants. Nutritional supplements should not be used as a substitute for a varied and balanced diet. Do not exceed the stated recommended daily dose.Keep out of reach of children. Consult your healthcare practitioner in case of prolonged use (maximal 6 weeks). Don't use in case of kidney failure. Do not use if pregnant or nursing. Don't provide for children under the age of 12 years. Do not use in case of antihypertensive treatment. Stop use in case of agitation or nervousness. Consult your health care practitioner and or pharmacist if you take simultaneously any medication.

Remark: net amount 50 ml approx.
It contains 64% of alcohol approx.

Preservation: keep the container tightly close, in a dry and cool place.