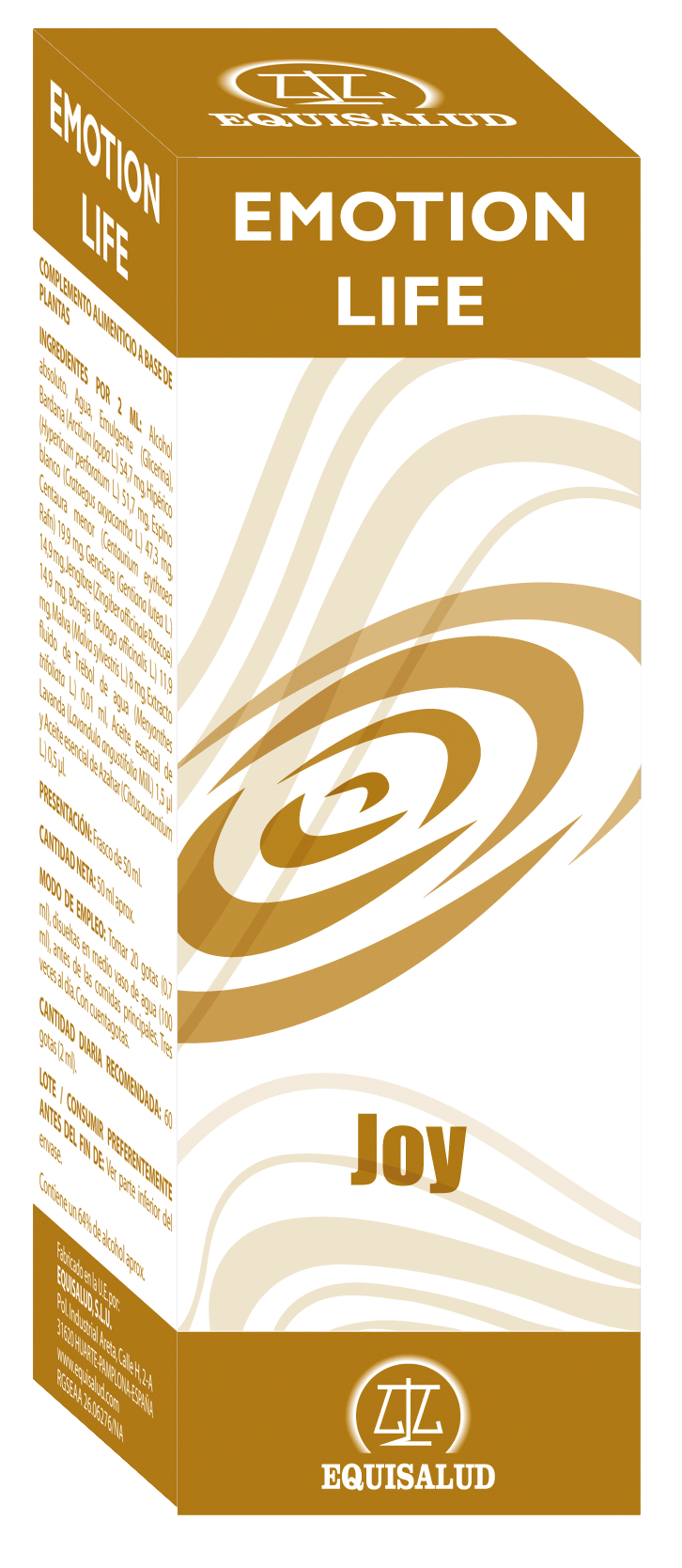 EmotionLife® JOY
EmotionLife® JOY - Emotional essence for the transmutation of Sadness.
Promotes feelings of control and serenity.                      
ACTION      
EmotionLife® JOY promotes the control and management of sadness and to bring about feelings of serenity. It helps to avoid the onset of depression and melancholy caused by retained habitual sadness. 
This special blend of phyto-nutrients and essential oils have been carefully crafted to ensure the optimum benefits of the plant actions well known traditionally to assist in creating a sense of peace and well-being.
COMPOSITION
EmotionLife® Joy is composed of a dosed and activated substrate of phytonutrients which strengthen the systems of adaptation which speci cally modulate the response of the organism to disturbance emotional state associated to sadness, such as psychic asthenia and depression. Phytonutriens: ABurdock (Arctium lappa, root), 1368.2 mg; St.John's wort (Hypericum perforatum, owering tops,> 0.05% hypericin),1293.5 mg; English Hawthorn (Crataegus oxyacantha,  owering tops, > 1.5 %  avonoids expressed as hyperoxide), 1181.6 mg; Centaury (Centaurium erythraea, above-ground parts), 497.5 mg; Gentian (Gentiana lutea, root, bitterness rate > 10000), 373.1 mg; Ginger (Zingiber of cinale, rizhome, >1.5 % essential oil), 373.1 mg; Borage (Borago of cinalis, ower), 298.5 mg; High Mallow (Malva sylvestris L.,  ower and leaf), 199 mg; Bogbean uid extract (Menyanthes trifoliata, leaf), 0.25 ml. Essential oils: English Lavender essential oil (Lavandula angustifolia,  ower), 37.3 μl; Bitter orange blossom essential oil (Citrus aurantium L. var. amara,  ower), 12.4 μl. Diluents: absolute alcohol, water and glycerine.

Mode of use: It's recommended to take 20 drops (0.7 ml) diluted in half a glass of water (100 ml) before the main meals. Three times a day. Use dropper.

Recommended daily allowance: 60 drops (2 ml) a day.

Allergens: gluten-free.

Warnings: Dietary supplement based on plants. Nutritional supplements should not be used as a substitute for a varied and balanced diet. Do not exceed the stated recommended daily dose. Keep out of reach of children. Do not use if pregnant or nursing. Don't provide for children under the age of 12 years. Do not use in case of antihypertensive treatment. Stop use in case of agitation or nervousness. Consult your health care practitioner and or pharmacist if you take simultaneously any medication.