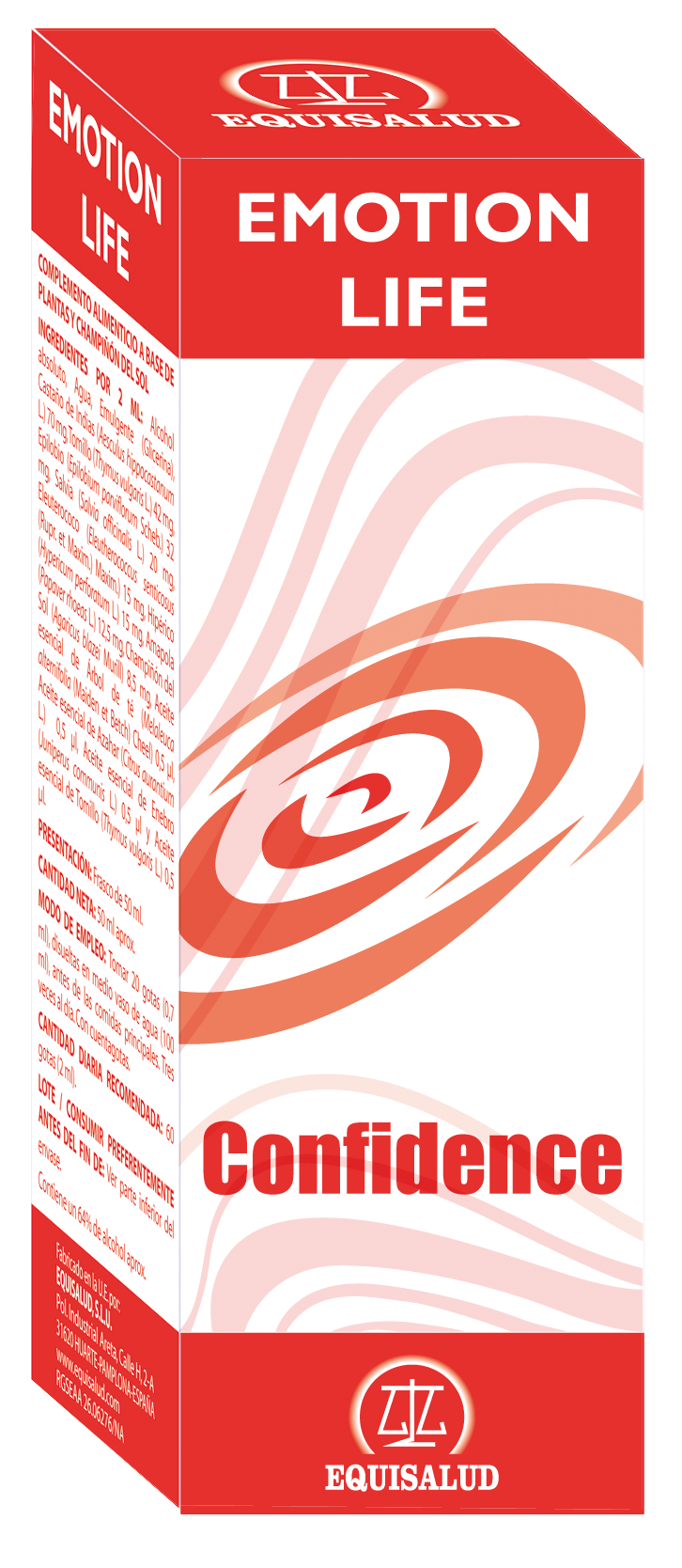 EmotionLife® - CONFIDENCE
EmotionLife® CONFIDENCE - Emotional essence for the transmutation of fear.
Promotes the feelings of security and confidence and prudence with a sense of one's own limits. 
ACTION                                                                            
EmotionLife® CONFIDENCE contributes to regulate the biological escape response, a primitive adaptive strategy, into feelings of prudence and confidence which constitute the most important ingredients for the inner security. Safety is the first human need which emerges after the satisfaction of the pure biological needs. 
 COMPOSITION 
EmotionLife® Confidence is made of phytonutrients and essential oils, whose components are synergycally mixed in precise doses: Phytonutrients and adaptogens: Horse chestnut (Aesculus hippocastanum, seed, 3% triterpenic glycosides valued as aescin), 1750 mg;Thyme (Thymus vulgaris, leaves and  owers, 1,2% essential oil), 1050 mg; Fireweed (Epilobium parvi orum, above-ground parts, > 1% total  avonoids (Hyperoxide)), 800 mg; Sage (Salvia of cinalis, leaves, > 1,5% essential oil), 500 mg; Eleuthero (Eleutherococcus senticosus, root), 375 mg; St. John's wort (Hypericum perforatum, owering tops,> 0.05% hypericin),375 mg;Field poppy (Papaver rhoeas,  ower), 312.5 mg; Mushroom of the sun (Agaricus blazei, whole fungus), 212.5 mg. Essential oil: Tea Tree essential oil (Melaleuca alternifolia, leaves and terminal stems), 12.5 μL; Bitter orange blossom essential oil (Citrus aurantium L. var. amara,  ower), 12.5 μL; Juniper essential oil (Juniperus communis, berries), 12.5 μL; Thyme essential oil (Thymus vulgaris, leaves and  owers), 12.5 μL. Diluents: absolute alcohol, water and glycerine.German chamomile (Matricaria chamomilla); sweet orange (Citrus sinensis). 
RDA: 60 drops per day
DOSAGE:  20 drops in half a glass of water before meals 3 x per day..