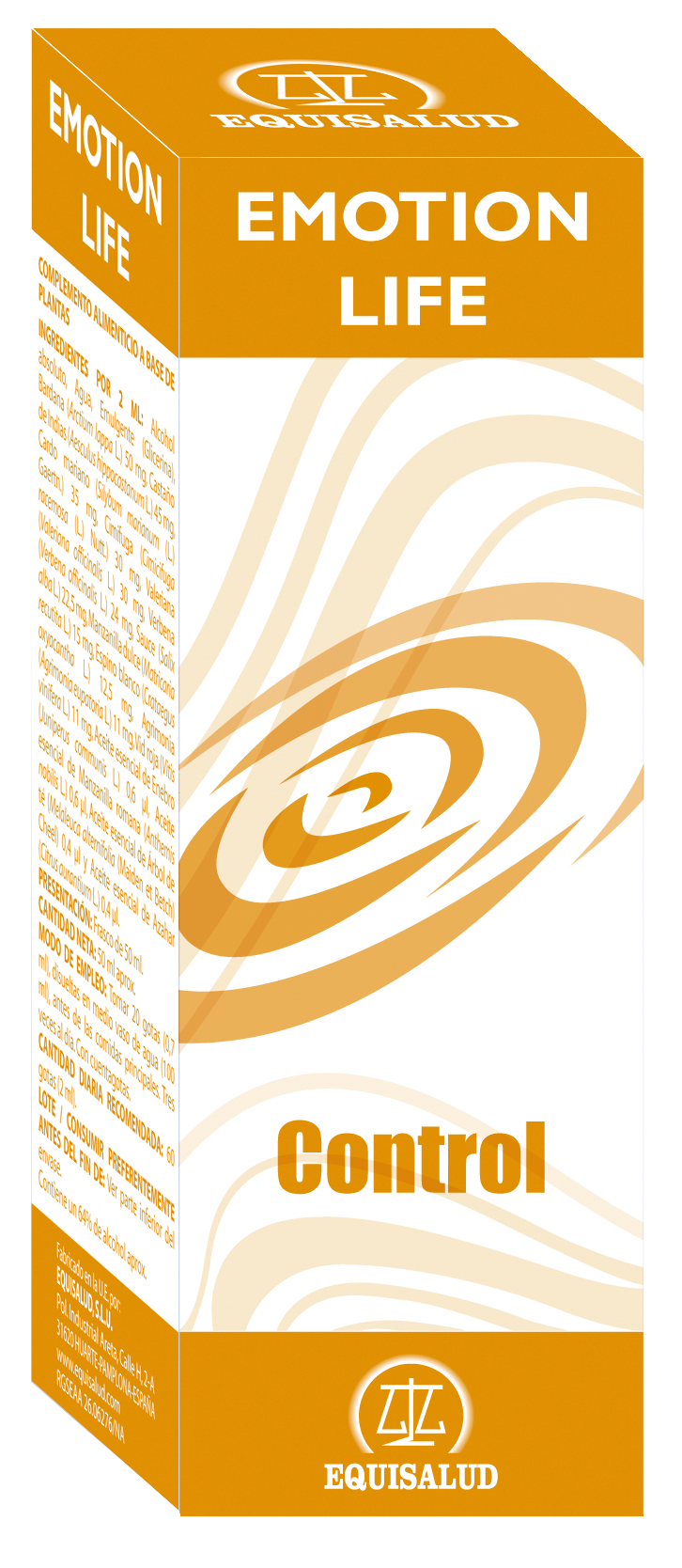 EmotionLife® CONTROL
EmotionLife® CONTROL - Emotional Essence for the transmutation of Anger.
Promotes feelings of self-assertion and balance.
ACTION                                                                      
EmotionLife® CONTROL helps to harmoniously release retained energy in feelings such as wrath, hatred, bitterness and irritability linked to repressed anger. These feelings lead to physical symptoms related to solar plexus imbalances and dysfunctions such as indigestion, acidity, heartburn, gastroesophageal reflux and headaches, among others.                                                                                                
COMPOSITION                       
EmotionLife® Control has the precise composition of phytonutrients, adaptogens and essential oils: Phytonutrients and adaptogens: Burdock (Arctium lappa, root), 1250 mg; Horse chestnut (Aesculus hippocastanum, seed, 3% triterpenic glycosides valued as aescin), 1125 mg; Milk Thistle (Silybum marianum, fruit, > 1.5% silymarin, expressed in silybin), 875 mg; Black Cohosh (Cimicifuga racemosa, root and rhizome), 750 mg; Valerian (Valeriana of cinalis, root and rhizome, ≥ 0.17% sesquiterpene acid expressed as valerenic acid), 750 mg; European Ver vain (Verbena of cinalis, above-ground par ts) , 600 mg;White Willow (Salix alba, bark, ≥ 1.5% total salicylic derived expressed as salicin), 562.5 mg;German Chamomile (Matricaria recutita, in orescence, ≥ 0.4% essential oil), 375 mg; English Hawthorn (Crataegus oxyacantha,  owering tops, > 1.5 %  avonoids expressed as hyperoxide), 312.5 mg;Agrimony (Agrimonia eupatoria, owering tops, 2% tannins expressed as pyrogallol), 275 mg; Common Grapevine (Vitis vinífera, leaf, 0.2% anthocyanosides), 275 mg. Essential oils: Juniper essential oil (Juniperus communis, berries) 15 μL;English Chamomile essential oil (Anthemis nobilis, in orescence), 15 μL;Tea Tree essential oil (Melaleuca alternifolia, leaves and terminal stems),10μL;Bitterorangeblossomessentialoil(CitrusaurantiumL.var.amara, ower), 10 μL. Diluents: absolute alcohol, water and glycerine. 
Mode of Use: It's recommended to take 20 drops (0.7 ml) diluted in half a glass of water (100 ml) before the main meals. Three times a day. Use dropper.

Recommended daily allowance: 60 drops (2 ml) a day.

Allergens: gluten-free.

Warnings: dietary supplement based on plants. Nutritional supplements should not be used as a substitute for a varied and balanced diet. Do not exceed the stated recommended daily dose.Keep out of reach of children. Consult your healthcare practitioner in case of prolonged use (maximal 6 weeks). Don't use in case of kidney failure. Do not use if pregnant or nursing. Don't provide for children under the age of 12 years. Do not use in case of antihypertensive treatment. Stop use in case of agitation or nervousness. Consult your health care practitioner and or pharmacist if you take simultaneously any medication.

Remark: net amount 50 ml approx.
It contains 64% of alcohol approx.

Preservation: keep the container tightly close, in a dry and cool place.