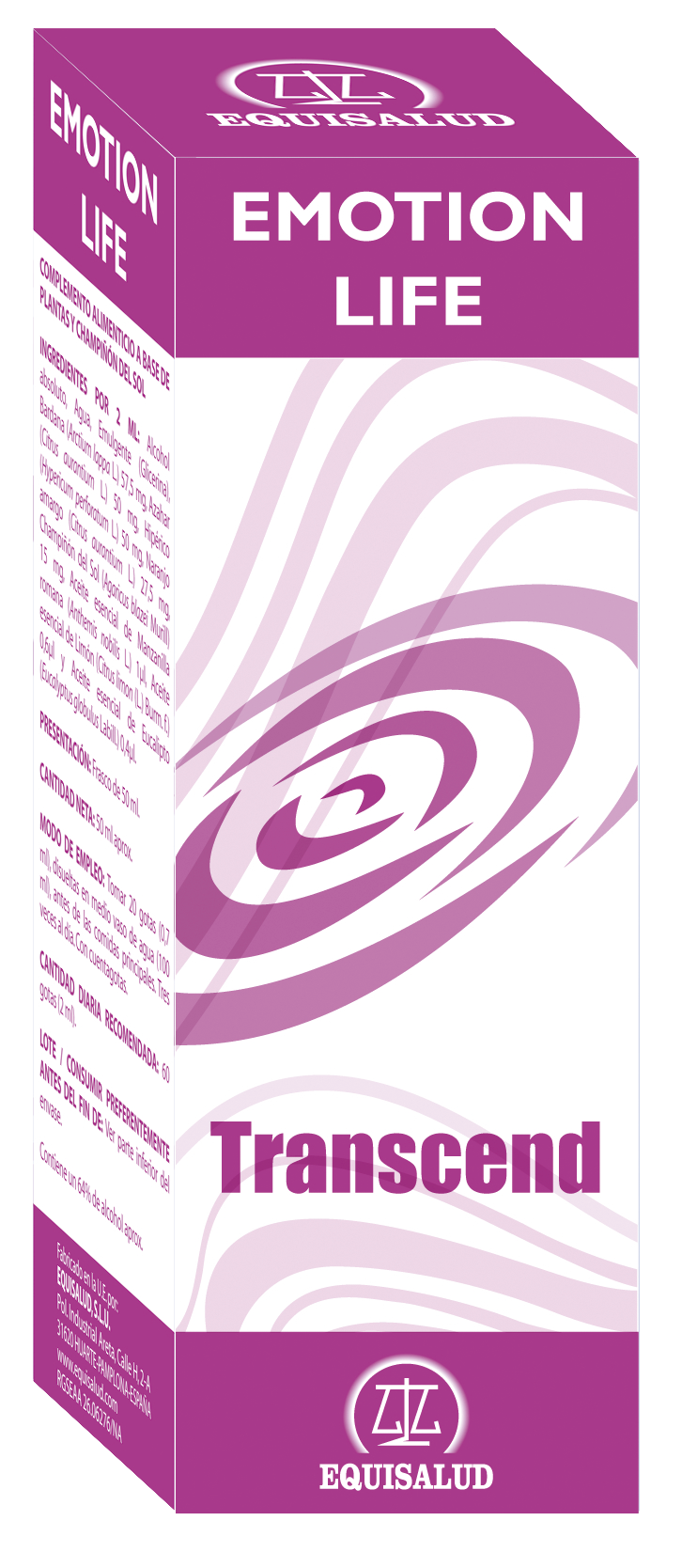 EmotionLife® TRANSCEND
EmotionLife® TRANSCEND - Emotional essence for Connection & Transcendence.
Supports feelings of connection, and higher transpersonal levels of consciousness.                                                                                              
ACTION                      
EmotionLife®TRANSCEND stimulates the processes of emotional quietness and concentration which facilitate the highest mental states, inspiration, intuition and creativity. 
COMPOSITION   
EmotionLife®Transcend is made of a substrate of dosed and activated phytonutrients, whose combination favors the mental and emotional quieting, to access to high conscious levels. Phytonutrients and adaptogens: Burdock (Arctium lappa L., root), 1437.5 mg; Bitter orange blossom (Citrus aurantium,  ower), 1250 mg; St. John's wort (Hypericum perforatum,  owering tops, > 0.05% hypericin) 1250 mg, Bitter orange (Citrus aurantium, pericarp, 2,5% essential oils) 687.5 mg; Mushroom of the sun (Agaricus blazei, whole fungus) 375 mg. Essential oils: English Chamomile essential oil (Anthemis nobilis, in orescence) 25 μl; Lemon essential oil (Citrus limon, fresh bark of the fruit) 15 μl; Eucalyptus essential oil (Eucalyptus globulus, leaves and fresh terminal stems) 10 μl. Diluents: absolute alcohol, water and glycerine.

Mode of use: It's recommended to take 20 drops (0.7 ml) diluted in half a glass of water (100 ml) before the main meals. Three times a day. Use dropper.

Recommended daily allowance: 60 drops (2 ml) a day.

Allergens: gluten-free.

Warnings: dietary supplement based on plants. Nutritional supplements should not be used as a substitute for a varied and balanced diet. Do not exceed the stated recommended daily dose.Keep out of reach of children. Consult your healthcare practitioner in case of prolonged use (maximal 6 weeks). Don't use in case of kidney failure. Do not use if pregnant or nursing. Don't provide for children under the age of 12 years. Do not use in case of antihypertensive treatment. Stop use in case of agitation or nervousness. Consult your health care practitioner and or pharmacist if you take simultaneously any medication.

Remark: net amount 50 ml approx.
It contains 64% of alcohol approx.

Preservation: keep the container tightly close, in a dry and cool place.