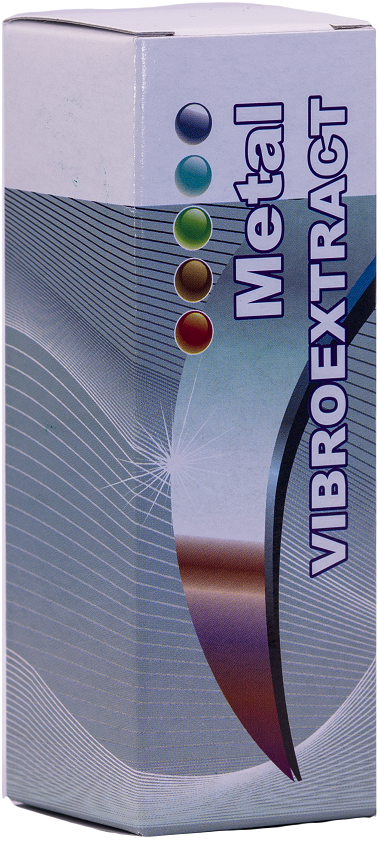 VibroExtract®METAL
VibroExtract® METAL
Lungs and large intestine. Skin, arthro-infections, sadness.  
USAGE                   
To tackle pulmonary diseases, bronchial disorders and the respiratory tract in general. Can also be used to address some skin problems due to the direct relationship between the lungs and the skin. For large intestine disorders. For respiratory tract infections and infectious rheumatisms. 
COMPOSITION      
Burdock (Arctium lappa L.); fennel (Foeniculum vulgare Mill.); angelica (Angelica archangelica L.); eucalyptus (Eucalyptus globules Labill.); garlic (Allium sativum L.); lungwort (Pulmonaria officinalis L.); common mullein (Verbascum thapsus L.); Iceland lichen (Cetraria islandica Ach.); mallow (Malva sylvestris L.); Scots pine (Pinus sylvestris L.); thyme (Thymus vulgaris L.).
BASE: absolute alcohol, glycerol, water. 
DOSAGE: Take 30 drops (1ml), dissolved in half a glass of water (100ml) before meals. Three times a day. Using the graduated dropper.